Kjartan Poskitt: TV Music Demos
PLEASE NOTE: the demos listed on this page all work with Windows Media Player.
Most of the music I've done for tv over the last 15 years has been for BBC Children's programmes, but I've also done music for education programmes and comedy shows for the BBC, and also ITV and cable broadcasters. I've done theme tunes, incidental music, underscores and dozens of specially commissioned songs.
Here are just a couple of tunes I've done. Owing to the high demand on my server, the others are now in a hidden folder. If you'd like to hear them, please contact me! You can also hear the songs from my published shows on Kjartan Poskitt's Shows.
To play a demo, click on the link. Your "Windows Media Player" screen should open immediately and after 10-20 seconds you should hear something (providing your sound card is working). If you get a message saying something like "buffer congested" then it takes a bit longer.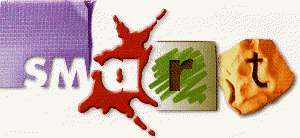 &nbsp
SMart - the main theme used continually since 1994
Dolly Snowlips big band swing tune
Tunes in the hidden folder (please contact me for access)
SMart on the Road - used continually since 1998
SMartHart - the "SMart" and "Left Bank II" themes combined for a compilation of Tony Hart's work used 1998-2000
No Worries - underscore used for "The Gallery" in "Take Hart" "Hart Beat" and "Artifax" 1989-1995.
To Me To You - the theme for the game show hosted by The Chuckle Brothers as used for 3 series 1994-1997.
Ragtime Hornpipe - game underscore as used in "To Me To You" for 3 series 1994-1997.
Morph TV - the theme for the little plasticine man's own series 1997-1998.
Theme tunes I've written but which are not available for demos:

Brum (1994-2001)
Teaching Today
Inset
Beeper - pilot animation comedy tune.

Beyond Friday - pilot game show theme.

Flickhouse - cinema show tune with FX.

Movie Dream - Hollywood orchestra tune

The Artbox Bunch - theme for a Tony Hart art series early 1990's

The Little Green Planet Show - theme for 3 series of a comedy science show which I also wrote early 1990's

Artifax - theme for an art series early 1990's

BBC Sex Education - arrangement of "Rock a Bye Baby" to make a theme for a schools series late 1980's

The Shufflies - theme for a pilot series made by Anne Wood, sung by Terry Wogan in the mid 1980's!

The Poops - theme for a CBBC pilot series 1999.

Whoops a daisy! - underscore for young children's story book show 1995.

Hamlet's Dream - spooky theme for a film sequence shown during a stage production of Hamlet at The Latchmere Theatre Battersea.
Back to the Top of the Page